News & Blog
Feb 15, 2016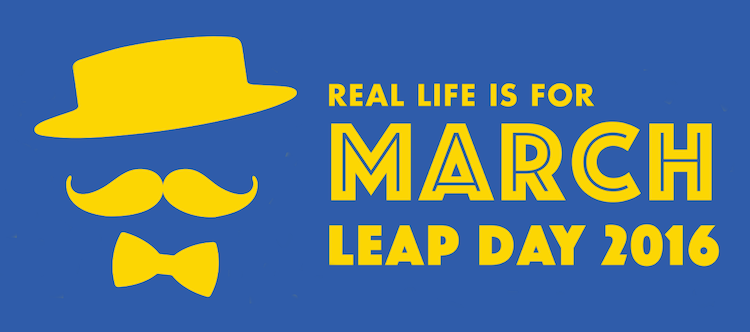 Leap Day is February 29 and Destination Grandview is teaming up with Yelp and Drink Up Columbus for a fun filled evening with all the classic Leap Day traditions: yellow and blue costumes and decorations, all the rhubarb you can eat and drink, and of course the main man himself, Leap Day William! Leap Day is that special day when you can do all the things you normally wouldn't – real life is for March!
If you have no idea what we're talking about, you've probably never seen the 30 Rock episode "Leap Day," but that's OK – we're taking a cue from Seinfeld's Festivus and celebrating this made-up TV holiday on Monday, February 29 from 6-8pm on Grandview Avenue. RSVP to Leap Day on Facebook or Yelp and invite your friends!
Leap Day William will be strolling Grandview Avenue from 6-8pm to give out candy, and the funny folks from Hashtag Comedy will be around as well.. Be sure to don your best blue and yellow outfit because Yelp will be giving away prizes to anyone who shows up wearing the traditional Colors of Leap.
We're got plenty planned with the official food of Leap Day, rhubarb. Smokehouse Brewing is brewing up the official "Leap Beer," a firkin of russian imperial stout with rhubarb, which will tap at Matt the Miller's Tavern around 6pm. Matt the Miller's will also have a rhubarb cocktail made with Watershed Distillery spirits, plus rhubarb pie from Honeykiss Bakery. Stauf's on Grandview Ave will have a Strawberry Rhubarb Green Tea featured for Leap Day, The Avenue will be mixing up a special Leap Day Blue Bee's Knees cocktail, and Yats will be offering a TBD Leap Day dish! Vernacular and Objects for the Home will both be "leaping" 10% off all purchases between 6-8pm, and State of Devotion will be marking all t-shirts down to $20.16 during the event!
Afterwards head to Market District for the official Gnarley Leaps Away Leap Day Afterparty featuring five different version of MadTree Gnarley Brown and a rhubarb spritzer. Be sure to order your limited edition Leap Day t-shirt, designed by Grandview screen printer Outfit Good, so you can wear it on February 29! Order your shirt here.